From the Directors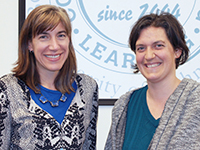 As the school year quickly comes to a close, it is both a time of reflection and an opportunity to look ahead – to summer, internships, fellowships, and emerging initiatives.
This is especially true in the Bonner Center for Civic Engagement, as we complete what has been a year-long process of strategic planning. With the help of local consultants at the Spark Mill, leadership from a team within the CCE staff, and extensive participation from numerous faculty, staff, students, and community members, we have emerged with four key goals to guide our collective work over the next five years:
Align, convene, and/or facilitate stakeholders to positively address specific, pressing regional needs
Champion civic engagement on campus and in the region
Reduce barriers and support participation along a robust spectrum of civic engagement
Strengthen internal operations to maximize impact
We also took time to affirm our values and to revise our mission and vision.
We will be sharing and enacting these words through our work because we believe that the University of Richmond will "be a vital partner to a thriving Richmond region." Our commitment to "value the knowledge and potential in our communities" as we strive to meet our strategic goals will deepen our work, our partnerships, our students' learning, and our impact.
Dr. Amy Howard, Assistant Vice President of Community Inititatives and the Bonner Center for Civic Engagement
Dr. Sylvia Gale, Director of the Bonner Center for Civic Engagement